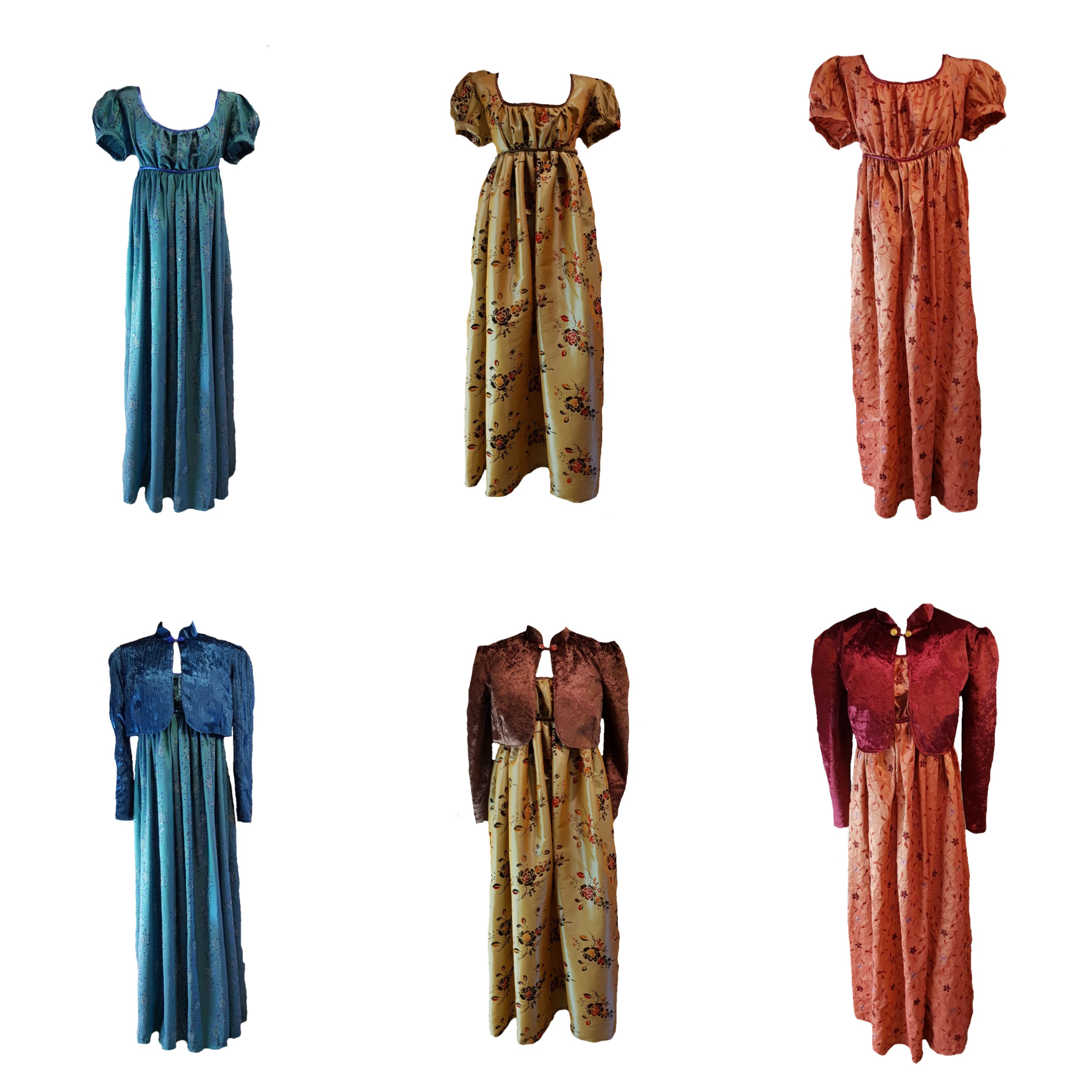 Click here to open the in-store Regency catalogue to view costume options and prices.
Molly Limpet's is often asked to provide Regency costumes for Regency balls, Jane Austen / Pride and Prejudice events, or historical themed events and parties.
For ladies, we have made a set of over forty different dresses in a variety of coloured taffetas, and in dress sizes 8 to 22. Each dress comes with long gloves and a feather fascinator. We made some dresses with additional bonnets and Spencer jackets also. We have some in pastel colours, with the majority being in stronger jewel colours to complement different hair colours and skin tones.
For gents, we have tailored numerous different suits, again in a variety of colours and in different jacket weights, so as to be comfortable when you're 'Boulanger-ing' across the dance floor. Gents' suits all come with the necessary shirts, waistcoats, trousers/breeches and so on. Some jackets are double-breasted, while some are open to be more comfortable if sitting down to a five-course dinner!
We do keep a good selection on site, but always best to call ahead if you're thinking of visiting us to look at this particular genre of costume, so we can check we have suitable sizes in for you.
NOT LOCAL? NOT A PROBLEM! We can send costumes to any UK address. Contact us for more details.
If you're thinking of attending a Regency ball, please visit the following websites to see the latest listings. Chatsworth is typically in July and Cannon Hall's Regency event is usually in early November:
Wentworth Woodhouse, South Yorkshire ​(very easy to access from J35 of the M1).
Cannon Hall Georgian Country House, South Yorkshire