Costumes for Ancient Rome, Egypt, Greece & the Arabian Nights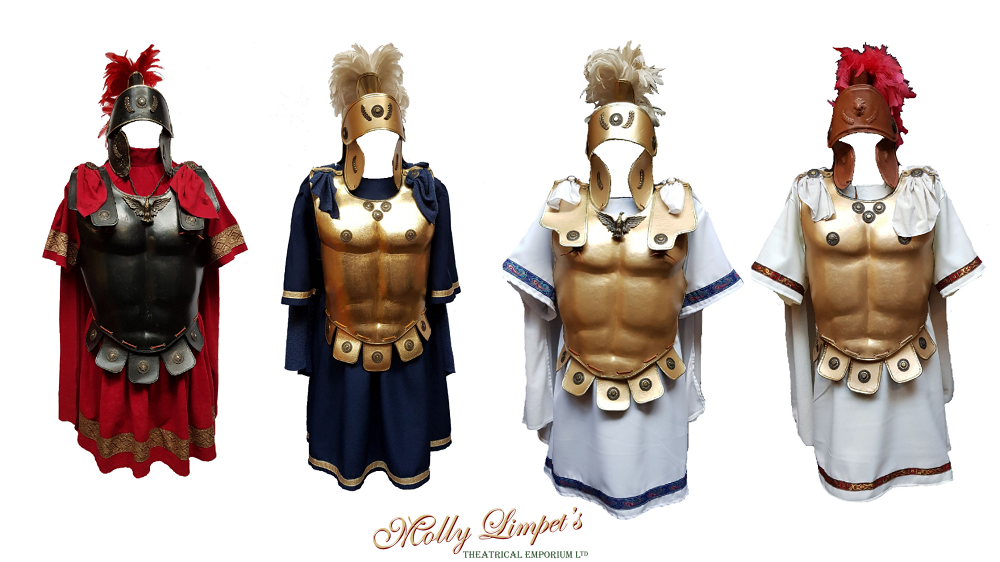 Click here to view more Classical costume hire choices and prices.
APPOINTMENTS FOR FITTINGS ARE NOW AVAILABLE. Call us on 0114 2500 851 to book.
Whether you want to be Cleopatra and Mark Anthony, or Joseph in his Amazing Technicolour Dreamcoat Molly Limpet's has got it all.
As with our whole collection, the stunning fancy dress costumes shown here are made in quality fabrics and are available in a wide range of sizes. Our standout costumes include deluxe Gladiators below - commissioned by Molly Limpet's and hand-crafted in Italy in real Italian leather.
Like the civilisations and characters they depict, our Classical costumes have travelled the world to events such as Venice Carnivale, Benidorm Fiesta, and Las Vegas conferences.
We have numerous options if you want to dress as Queen Cleopatra; costumes that would work well for Arabian Nights-themed events such as Aladdin and Abanazer; literary warriors such as Kubla Khan; and yet more costumes are available in-store than are shown here, as we produce new garments all year round.
NOT LOCAL? NOT A PROBLEM! We can courier costumes to any UK address. Contact us for more details.