Pantomime Costume Hire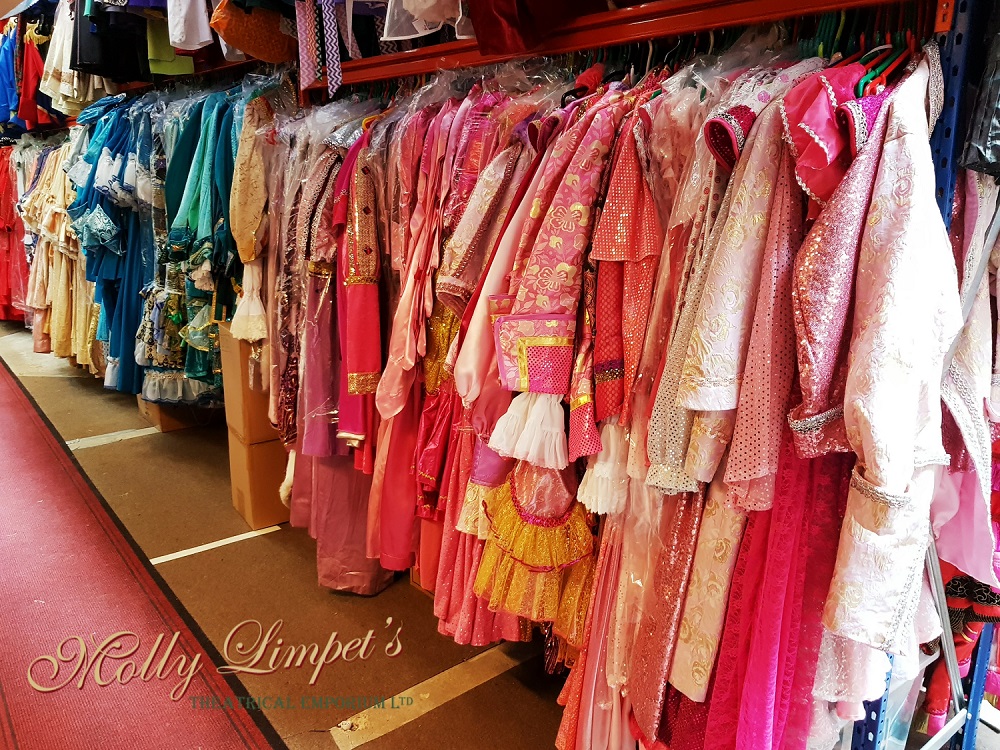 Molly Limpet's Ltd is a UK pantomime costume specialist, supplying our stunning creations to both amateur and professional theatre productions of all sizes across the UK and Ireland. Since 2001, we have continued to grow our unique Pantomime costume collection. Our collection encompasses principal and chorus worker and finale options, over 1500 pantomime dame costumes, bespoke footwear, and specialist panto costumes such as two-person cows/camels/horses, giants, donkeys, forest animals, pandas, parrots, dancers, showgirls and much more. In addition to making your principals look stunning, we have beautiful chorus costumes so that the whole stage is awash with colour and sparkle. We can supply anything from a single costume to hundreds for any company, so please enquire if you'd like a quote for your costume hire requirements.
Unless you've visited our Studio for an appointment, one of our Costume Workshops, or one of our Panto Dame Costume Exhibitions, it's impossible to comprehend the range of what we are able to offer our clients. With a Panto Dame heading our Studio team you can be assured that we are always here with the most innovative designs and ideas.
Our two Instagram accounts (@mollylimpets ​and @pantodames_uk) show a lot of what goes on behind the scenes in our private Costume Studio. We also now carry structured 'hard' wigs produced by David Birt, of Wig Art Theatrical, that are available for hire with a full costume wardrobe [only] - see here ​for photos of some of what we have to offer.
In addition to costume hire, we offer a full Design and Manufacture Service for those clients wanting to have costumes made for purchase. Contact us if you'd like to make an appointment to visit to discuss this.
​Other Helpful Pantomime Links
Chances are you'll have already come across a Tom Whalley Pantomimes script, such is their popularity. Tom's scripts marry much-loved traditional stories with modern pacing and comedy.