Showgirls & Can-Can Costume Hire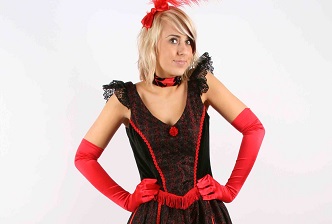 APPOINTMENTS FOR FITTINGS ARE NOW AVAILABLE. Call us on 0114 2500 851 to book.
Molly Limpet's has been supplying stunning costumes for SHOWGIRL, BURLESQUE, VEGAS and MOULIN ROUGE themed events since 2001. We have recently added many more new costumes to the collection and we are excited to show you new images here. These costumes also work great for THE GREATEST SHOWMAN themed events - one of our most popular themes for 2018.
Costumes in this collection range between £35 to £60 to hire. The boots shown in the images here are also available to hire as an add-on in different sizes and colours, at £15 per pair.
All costumes will include gloves, feather boas and feathered headdresses. We can offer Vegas-style headdress upgrades in select colours, which look fantastic and are easy to wear.