Uniforms & Military Costume Hire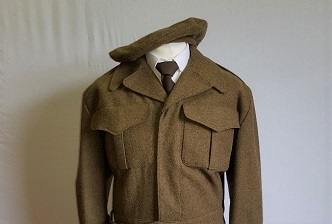 APPOINTMENTS FOR FITTINGS ARE NOW AVAILABLE. Call us on 0114 2500 851 to book.
Click either link here to view a comprehensive list in PDF format of all the Gents Uniforms and Ladies Uniforms we have available, along with their measured sizes and hire cost.
Molly Limpet's carries a range of Uniforms which are available to hire. We have a selection of vintage and reproduction 1940s / military uniforms to hire, including Army (officers and battle dress), Navy (officers and sailors), RAF (pilots, officers, battle dress), American GIs and Glenn Miller, plus others such as Firemen and Police (historical only) and American Police. We don't currently have photos on file; these will follow shortly, but costumes can be viewed in person at our shop premises (address above).
Uniforms are best fitted by appointment, so we advise calling us first on 0114 2500 851 to discuss sizing and availability.
* Please note, we can only supply Uniforms that have been fitted in person first.